David Hockney RA: A Bigger Picture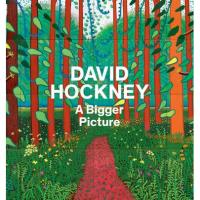 21 January '12 - 19 April '12
In January 2012 the Royal Academy of Arts will showcase the first major exhibition of new landscape works by David Hockney RA. Featuring vivid paintings inspired by the East Yorkshire landscape, these large-scale works have been created especially for the galleries at the Royal Academy of Arts and will be shown alongside related drawings and film.
'David Hockney RA: A Bigger Picture' will span a 50 year period to demonstrate Hockney's long exploration and fascination with the depiction of landscape. New work that dates from 2005 captures the beauty of the changing seasons, the cycle of growth and the journey that Hockney has taken through his beloved landscapes in Yorkshire.
The exhibition will also reveal how Hockney has embraced new technology, including his early use of the Polaroid, his innovative use of the colour photocopier, and more recently his iPhone and iPad. The exhibition will include a display of his iPad drawings and a series of new films produced using 18 cameras, which will be displayed on multiple screens and which will provide a spellbinding visual journey through the eyes of David Hockney.
Born in Bradford in 1937, David Hockney attended Bradford School of Art before studying at the Royal College of Art from 1959 to 1962. Hockney's stellar reputation was established while he was still a student; his work was featured in the exhibition Young Contemporaries, which heralded the birth of British Pop Art. He visited Los Angeles in the early 1960s and settled there soon after. He is closely associated with southern California and has produced a large body of work there over many decades. David Hockney was elected a Royal Academician in 1991.
Organisation
'David Hockney RA: A Bigger Picture' has been organised by the Royal Academy of Arts, London, in collaboration with the Guggenheim Museum, Bilbao and the Museum Ludwig, Cologne. The exhibition has been curated by the independent curator Marco Livingstone and Edith Devaney, the Royal Academy of Arts.
Catalogue
'David Hockney RA: A Bigger Picture' will be accompanied by a fully illustrated catalogue. A number of essays, including an introduction by Marco Livingstone will explore the artist's engagement with landscape painting in the context of Hockney's illustrious career. Writers as notable as Margaret Drabble, Tim Barringer, Martin Gayford, Xavier Salomon and David Hockney himself address the artist's place in the landscape tradition, his recent video works and his delight in new technologies.
Detalles Exposición
Lugar

The Royal Academy of Arts
Burlington House, Piccadilly
W1J 0BD London
Reino Unido

Teléfono

+44 2073008000

Sitio Web

Correo electrónico

Perfil del museo