Room 1: Long Line with Blemish / ALLISON HRABLUIK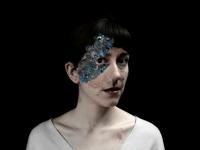 02 April '11 - 08 May '11
For her upcoming solo exhibition at Tatjana Pieters Gallery, Gent, Canadian artist Allison Hrabluik (1977, CA) presents a new multi-channel video installation Long Line Light, 2011, alongside Corundum, 2010, a four minute single channel video with sound by Canadian composer Andrea Young.
Allison Hrabluik at Galerie Tatjana Pieters
Two ball-like shapes continuously slide across the wall. A long line vibrates incessantly on a pixilated background. Another line vibrates incessantly, and another. A pink screen fades out, followed by pause, and it is back. The long line switches projection screens. It is gone. There are far too many balls now, moving in sync. Then more pink - pixilated and dirty. The line is now invading a dim television set, which pushes back with its own vibrations, and the line moves to another wall. All of this to an audible click click click: now faster, slower, a rhythm, now urgent. Around the corner, these clicks are composing the animation of another projection, Corundum, 2010. An animation that moves with the composition - dancing, building, and deforming a portrait of the artist using a variety of jewel-like cancerous moles, blisters, freckles and warts.
Artist Bio
Allison Hrabluik's videos, sculptures, drawings, performances, and texts take a lyrical and humorous approach to narrative exploration. Often experimenting with voice of narrative construction: the fable-like quality of third-person perspective, the messy subjectivity of first-person narration, the humour and irony of allegory, magic-realist absurdity, and the wit in 'rational' argument. Formal explorations in her work include using structural constraints as well as collage and montage as both a subject matter and a material. Her recent work continues this relationship with the literary while moving away from a literal subject to explore how abstraction can contain similar emotive qualities as traditional narrative.
Allison Hrabluik is a Canadian artist living in Vancouver, Canada. Her videos, sculptures, drawings, performances, and texts have been presented internationally, including exhibitions at Western Bridge, Seattle, Washington; The Vancouver Art Gallery; Mercer Union, Toronto; Isabella Bortolozzi Galerie, Berlin; Video Pool, Winnipeg, Manitoba; The Kitchener-Waterloo Art Gallery, Ontario; The SAAG, Lethbridge, Alberta; Market Gallery, Glasgow, The Western Front, and Artspeak, Vancouver.
Details exposition
Venue

Galerie Tatjana Pieters
Burggravenlaan 40 2nd Floor
9000 Ghent
Belgium

Phone

+32 9 324 45 29

Website

E-mail

Dealer profile