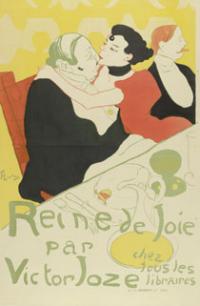 02 February '12 - 23 September '12
The exhibition will show approximately 100 prints from the permanent collection, by artists including Bonnard, Gauguin, and Toulouse-Lautrec. This exhibition marks the publication of the first major study of the museum's print collection, Printmaking in Paris. The rage for prints at the fin de siècle.
In the years 1890 to 1905, Paris was swept by a craze for prints. Almost all French artists of the time experimented with lithography, etching, or woodcuts as an artistic medium. Marvellous and often colourful works of art were the result. The Van Gogh Museum holds a significant collection of more than 1,300 prints that illustrate the printmaking of this period in its full glory.
Masterpieces on paper
The exhibition and the book will display the highlights of this print collection. Artists like Bonnard, Vuillard, Denis, Steinlen, and Toulouse-Lautrec will be represented by limited-edition prints, as well as mass-produced illustrated theatrical programmes, sheet music, books and their world-famous posters.
These masterpieces on paper have rarely been exhibited in the past, on account of their fragility, and have never before been described in such detail. The book and the exhibition offer a unique opportunity to discover these hidden treasures.
Research project
Since the year 2000, when the Van Gogh Museum acquired a major print collection, it has actively acquired fin de siècle prints. At the same time, this collection is the subject of intensive ongoing research. The book Prints in Paris and the exhibition Beauty in abundance are the first two tangible results of this multi-year research project.
Publication
The richly illustrated book Printmaking in Paris. The rage for prints at the fin de siècle contains a fine representative selection from the print collection. Four essays sketch the context for the printmaking craze. The book includes a detailed exposition of the major participants, graphic techniques, and forms of publication. In the autumn of 2012, a French edition of the book will be published by the Mercatorfonds and the publishing house Actes Sud in Arles.
By Fleur Roos Rosa de Carvalho, with Marije Vellekoop.
c. 180 pages, c. 165 illustrations, English and Dutch, softcover, approx. € 24.95.
Sunday lecture (Dutch spoken)
5 February 2012, 14.00
'Prints in Paris: The fin de siècle rage'
by Fleur Roos Rosa de Carvalho, researcher, Van Gogh Museum
Details exhibition
Venue

Van Gogh Museum
Museumplein 10
Amsterdam
The Netherlands

Phone

+31 205705200

Website

E-mail

Museum profile