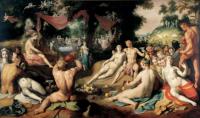 29 September '12 - 20 January '13
This autumn the Frans Hals Museum is devoting an exhibition to Cornelis Cornelisz van Haarlem (1565-1638). Inspired by Italian masters like Michelangelo, Van Haarlem worked in the Mannerist style.
Figures are made more graceful by elongating them and portraying them in elegant, twisted and complex poses. The composition of the painting and the rendition of the nude bodies are almost more important than the story. Cornelis van Haarlem had total mastery of this style and is regarded as one of the most explicitly Mannerist painters in the Northern Netherlands.
The exhibition brings together some forty of Van Haarlem's works for the first time. The paintings come from prestigious museums, among them the Louvre in Paris, the National Gallery in London and the Metropolitan Museum in New York, and from various private collections.
Details exhibition
Venue

Frans Hals Museum
Groot Heiligland 62
2011 ES Haarlem
The Netherlands

Phone

+31 235115775

Website

E-mail

Museum profile