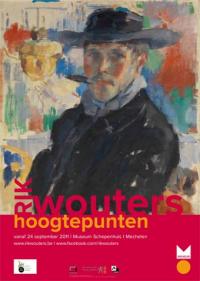 24 September '11 - 31 December '17
For the duration of the renovation work to KMSKA, the museum's important Rik Wouters collection will be on display in Mechelen, the artist's town of birth. With the exhibition Rik Wouters. Highlights, Mechelen's Schepenhuis Museum is temporarily transformed into a Rik Wouters Museum.
Rik Wouters was only thirty-three years of age when he died, yet he left behind an impressive oeuvre of sculptures, paintings and drawings. Having started out as an apprentice in the furniture workshop of his father Emile, he eventually enrolled at Mechelen's Academy of Fine Arts and got to work at the studio of sculptor Theo Blickx. Later, he studied at the Fine Arts Academy in Brussels, where he met a young model, Hélène – Nel – Duerinckx, who would become his wife, soul mate and muse. It was here that Wouters, who was already a prolific draughtsman, discovered painting as an artistic medium. Rik Wouters's first exhibition was an instant success. His colourful paintings, the flow of his drawings and his expressive sculptural style earned him acclaim and admiration.
Wouters takes over Schepenhuis
The Royal Museum of Fine Arts Antwerp acquired a substantial part of its Rik Wouters holdings through a donation from the renowned neurologist and art collector Dr Ludo van Bogaert and his wife Louise Sheid. Now that KMSKA is closed for renovation until 2017, this immensely rich collection is travelling to Mechelen, the artist's town of birth. Mechelen's Schepenhuis Museum is, for the coming years, transformed into a Rik Wouters museum, showcasing the work of one of the town's most famous artistic sons. The exhibition, which opens on 24 September 2011, features the loans from KMSKA alongside work from the collection of the Municipal Museums of Mechelen. The pieces are presented in five large thematic galleries: portraits of the artist and his acquaintances, landscapes, scenes from daily life (a laughing child, a woman reading,...), sculptures and paintings of female nudes, and still-lifes. In addition to the main exhibition, annual temporary presentations focus on a different aspect of Wouters's oeuvre.
Details exhibition
Venue

Schepenhuis Museum Mechelen
Steenweg 1
2800 Mechelen
Belgium

Phone

+32 (0)70 222 800

Website

Museum profile