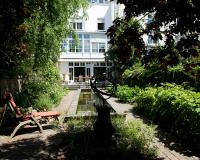 24 July '12 - 03 September '12
In our gallery it's Summertime! The garden looks beautiful, the paintings are bright. The wooden furniture has been polished, as is the silver. Porcelain objects and of course the Curiosity Cabinet all giving you a warm welcome.
Please give us a call if you intent to visit!
Details exposition
Venue

Kunsthandel Peter van Os
Kastanjelaan 38
Arnhem
The Netherlands

Dealer profile