The MODERNS. Permeke & Friends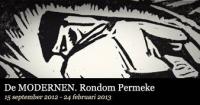 15 September '12 - 24 February '13
The third exhibition in the series on KMSKA's collection of modern art focuses on the Flemish pioneers of Expressionism.
2012 is the 60th anniversary of the death of Constant Permeke, the standard bearer of Flemish Expressionism. To mark this occasion, the Royal Museum of Fine Arts Antwerp (KMSKA) is organising an exhibition featuring around seventy works by contemporaries and friends of the artist's. The MODERNS. Permeke & Friends is the third exhibition in a series on KMSKA's collection of modern art hosted by Koningin Fabiolazaal (KFZ) in the centre of Antwerp.
The exhibition highlights work by the Flemish pioneers of Expressionism: Constant Permeke, Frits Van den Berghe and Gustave De Smet. KMSKA has recently acquired further pieces by these artists that will be unveiled to the public in this latest show in the series on The Moderns. The new acquisitions include a painting by Permeke and a series of fifteen lino and woodcuts by De Smet. Also selected for the exhibition are paintings and prints by, among others, Edgard Tytgat, Gustave Van De Woestyne, Valerius De Saedeleer and Jean Brusselmans. The oeuvres of all of these artists exude a passion for the craft of painting. This is particularly apparent from the deliberate use of the paint surface and brushwork as means of artistic expression. Their work also testifies to the intense pleasure they derived from the act of painting. Although Expressionism – like painting in general – was long unfashionable, today we are witnessing a revival of its style and idiom among various prominent artists. Clearly, the last word has not been spoken on the art of the Expressionists.
Details exhibition
Venue

Koningin Fabiolazaal
Jezusstraat 28
2000 Antwerp
Belgium

Phone

+32(0)3 238 78 09

Website

Museum profile