Cobra Museum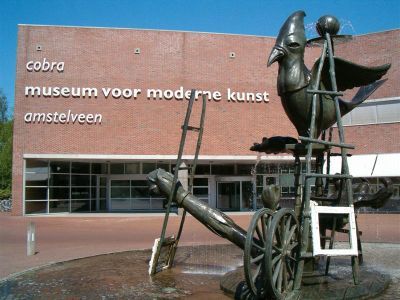 Cobra Museum
Sandbergplein 1-3
1181 ZX
Amstelveen
The Netherlands
+31 205475050
Website
Cobra caused a revolution in the Netherlands; a breakthrough in modern art that continues to influence art theory and artistic expression to the present day.

The word Cobra is derived from the French names of the cities of Copenhagen, Brussels and Amsterdam. The artists who founded the CoBrA group during a major international conference held in Paris in 1948 came from these three European capitals. A curled snake became the symbol of the movement.

It was in the Paris café Notre Dame that Asger Jorn (from Copenhagen), Joseph Noiret and Christian Dotremont (from Brussels) and Constant, Corneille and Karel Appel (from Amsterdam) signed the manifesto 'La Cause était entendue' (The Case was Heard). This manifesto, drawn up by Dotremont, was a response to a statement by the French Surrealists entitled 'La Cause est entendue' (The Case is Heard). In it Dotremont makes it clear they are no longer in agreement with the French artists. The CoBrA painters wanted to break new ground, preferring to work spontaneously and with the emphasis more on fantastic imagery. In 1951 the CoBrA movement was officially disbanded, yet during its short existence CoBrA rejuvenated Dutch modern art.

The Cobra Museum of Modern Art Amstelveen ensures that the legacy of the international Cobra Movement remains in the public eye, and that the intellectual heritage of the Movement's artists is kept alive.

The Museum aspires to be the centre of expertise in this area; to be the place where the spirit of Cobra, artistic experimentation and expression are featured and celebrated.

The museum has at its core the Cobra collection, comprised of artworks and documentary material, from which diverse presentations are created. For example, Cobra-related exhibitions are produced about individual member-artists, Cobra-era peers and related movements. The exhibitions are regularly complemented with a range of cultural and educational activities that seek to broaden insights into the social and art historical relevance of the Movement.

The Cobra Movement stands for creative freedom and experimentation, passion and vitality, and social engagement. The Cobra Museum of Modern Art sees its mission as being equally-weighted towards showing contemporary art that embodies the core values and spirit of Cobra.

At the Cobra Museum of Modern Art, Cobra art, modern and contemporary art are harmoniously intertwined with one another.