The sitter on this painting is Louis Jean François Lagrenée (1724-1805). As a pupil of Carle van Loo he won the prestigious 'Prix de Rome' of the Academie Royale. Subsequently he stayed in Rome for a short period. In 1755 Lagrenée was admitted to the Academie with a painting that in terms of technique and quality is compared to the work of Guido Reni. Later in life he became known as 'The French Albani' due to the similarities of his work with the oeuvre of the 17th century master Francesco Albani.
From 1760 to 1762 Lagrenée was director of the Academie of Saint Petersburg where he work on commissions of the Russian Court. Once returned to Paris he took up the appointment of professor-rector of the Académie Royale de Peinture et Sculpture and received many important commissions. His critics, and notably Denis Diderot, however, had a much higher opinion of his smaller works and cabinet pieces, which they found far more powerful. In his critique on the Salon of 1763, Diderot wrote that Lagrenée's larger works showed less of his qualities compared to the really small ones.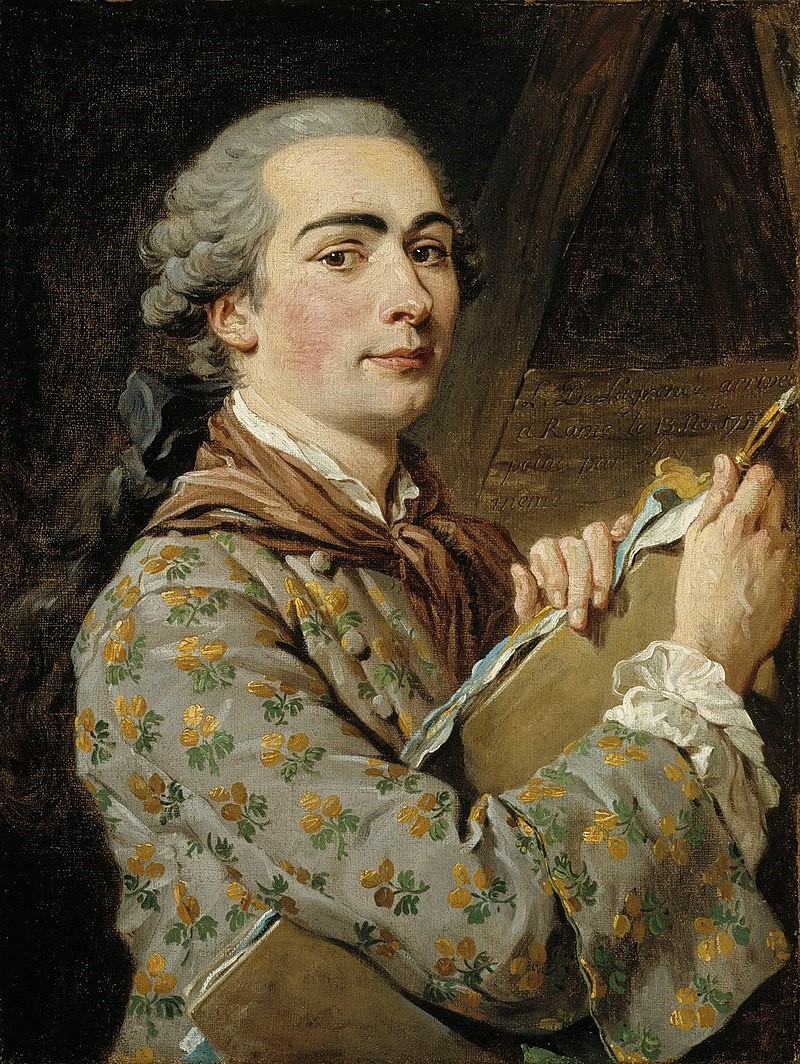 It is very well possible therefore this portrait miniature is painted by Lagrenée himself. A strong argument for this assumption is the profound likeliness of this portrait with a self-portrait the artist painted in the fifties of the 18th century and is now in Helsinki. Given the origin, it is quite possible this painting was left behind in Saint Petersburg after Lagrenée stayed there in 1760-1762 and that the artist made a pocketsize keepsake of his image at the age of twenty-eight.
In the tradition of the 18th century this is, to be specific, not a miniature but only a very small painting, however painted by a technically very skillful artist. It is noteworthy to point out the pictorial technique used for this tiny work on a metal background, as opposed to the habitual miniature techniques on an ivory base.
The painting of large portraits could not be more different from realizing a miniature. A miniature portrait is in average 15 times smaller than a traditional portrait. And also the way to look at it is completely different; a miniature should be admired held in hand and at close range to the eye. This requires the application of much more refined techniques to obtain a very detailed result. This huge distinction in required skills is probably the reason why so few painters ever produced miniatures, or why miniaturists seldom made full size portraits. The term miniature, therefore, does not so much refer to the size of the artwork but sooner to the applied technique.

A French monograph on Lagrenée from the 1980-ies contains an exhaustive inventory of the work of the artist. The work at hand, however does not appear in this list, simply because this portrait was not yet known to the author at that moment.
A remarkable issue, justifying the attribution of this work to Lagrenée, is the fact that the artist produced both very large paintings and very small ones. The latter fact explains why certain lexica included Lagrenée as a miniaturist.
Although Lagrenée kept a list of the paintings he produced (Bibliothèque Nationale de Paris) it is impossible to determine this work from that list. The descriptions are concise and the list does not contain works that are conceived before his departure to Saint Petersburg. It may very well be possible this small portrait is from before that moment.
Another remarkable feature of this object is the metal substruction, which is not uncommon for a miniaturist, but is for a 18th century painter. According to Lagrenée's own listing, however, several of his smaller works were painted on a base of copper or other types of metal.
Literature:
Diderot, Essais sur la peinture Salons de 1759, 1761, 1763 (Ausgabe 1984), S. 205-207
Marc Sandoz, Les Lagrenée, Paris, 1984
Joseph Assémat-Tessandier, Louis Lagrenée (1725-1805), Parijs, 2022, p. 232