The royal version of this renowned painting of Karl Wilhelm Wach has been discovered. It was known that the painter made several versions of this work, of which one was owned by the Bavarian Royal Family at Schloss Tegernsee situated at the lake and near the town that both bear the same name. Hitherto it was unclear which copy resided at Tegernsee. The emergence of this version sheds a light on that matter.
When Prince Karl of Bavaria fell from his horse near Schloss Tegernsee in 1875 and almost immediately died, the painting was mentioned in the inventory of his legacy as part of the interior of the 'Toilettenzimmer' being marked number 95;

Toilette-Zimmer
No. 95 Wacht
Bildnis einer Albaneserin in rothem Mieder, geschmuckt mit einer Rose, einem Collier von Korallen und goldenen Ohrenringen. Auf Leinwand H. 23 Z. 1 L. Br. 17 Z. 11 L.
In verg Rahmen. fl 250.


The inventory number 95 on the back of this painting supports its royal origin. On a watercolor by Eugen Napoleon Neureuther (1806-1882) the painting is depicted hanging on the wall of the 'Toilettenzimmer' on the right hand wall nearest to the back wall.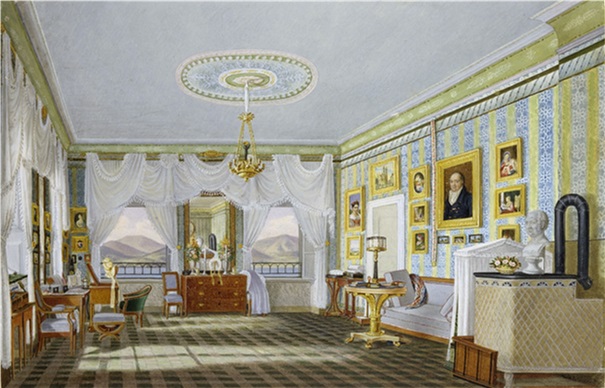 The original frame by Leo von Klenze (1784-1864), with the inventory number stamped on the back, is clearly recognizable on the painting. Von Klenze was the architect to the Court of Ludwig I of Bavaria and is considered one of the most prominent representatives of Neoclassicism. In 1823/24 he refurbished Schloss Tegernsee, so it is well possible this painting was already part of the inventory of the castle at that point.

Karl Wilhelm Wach, the painter of the famous Velletrinerin was a pupil of Carl Kretschmar in Berlin. Later he pursued his education under the guidance of Jacques Louis David, Antoine Jean Gros, and François Gerard in Paris, and subsequently travelled on to Rome May 1817. For two years Wach spend his time in and around the ancient city. The pretty lady from Velletri, some 40 km south of Rome in the Albanian mountains (which explains the 'Albaneserin' in the inventory of 1875), was probably painted by the end of 1818 or in early 1819, as the portrait was first presented in 1819 on an exhibition at the at the Prussian Embassy in the palazzo Caffarelli in Rome in 1819. This first version was subsequently acquired by Count Raczynski (1786-1845) for his castle Rogalin near Poznan. Wach's contemporaries were very much impressed by the painting that was copied at least six times by the painter himself. Some of them are in museums or established collections; the Museum Georg Schäfer in Schweinfurt (since 1959), the collection Oetker, and the Stadsmuseum Berlin each own a copy.

Research by Prof. Helmut Börsch-Supan from Berlin has revealed that the version at hand is one of the earliest copies. The, as regards to perspective, correctly depicted gilt hairpin – in later versions the hairpin is not straightly aligned with the Amor on top anymore – and the von Klenze frame underpins this supposition. Also the inventory number on the back of the frame, matching the inheritance inventory of Prinz Karl von Bayern, supports the circumstance that this is the version from the Toilettenzimmer at Schloss Tegernsee as depicted on the watercolor by Neureuther.

Provenance:
Prinz Karl von Bayern (1795-1875), Schloß Tegernsee Bayern